The team have recently been out in Budapest, Hungary, for the 45th UEFA Super Cup supporting a Motorola Solutions Capacity Max radio system and 300 handsets.
The event was one of the first in Europe to allow fans back into the stadium following the Covid-19 pandemic, and so additional steps were taken to ensure the safety of all involved.
Over 300 Motorola Solutions DP4801e handportable radios were deployed at the event, all distributed using our Checkpoint Charlie® asset tracking system, managed by our on-site team. To reduce the risk of Covid-19 transmission as much as possible, all radios were cleaned with alcohol wipes before being handed over, and earpieces were sealed in bags before being used by the customer. In the logistics office, our team worked behind Perspex screens, with social distancing floor markers and hand sanitiser to help keep everybody protected.
The handportables were supported by a Capacity Max digital trunked radio system, which provided excellent functionality for radio users. Our team had carried out a site survey before the pandemic, and so knew where repeaters and antennas needed to be located to ensure coverage across the stadium and surrounding areas.
During the site survey, our team worked with the client to identify key areas in need of radio coverage. We also work closely with our client as the event planning progresses, to ensure that any new or additional requirements for coverage are captured and catered for.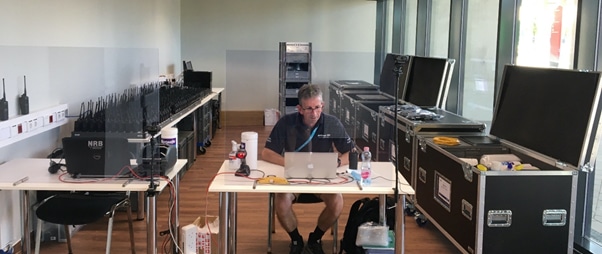 Roadphone NRB are proud to support some of the largest events in Europe, and we look forward to further supporting our valued clients as events return.