Admatics
Designed, developed, built and supported by Roadphone NRB, the Admatics Dispatcher suite is a professional application for control room environments.
What is Admatics?
Developed in-house by our engineers, Admatics products are designed to make your control room more efficient.
Roadphone are an official Software Application Partner for both Motorola and Hytera. This means that the company works very closely with the radio manufacturers to design software solutions that work with the latest products to be released by these manufacturers.
Motorola are the leading two-way radio hardware provider worldwide but as software is region and industry sector specific it would be impossible for them to write software solutions to cover all client's needs.
Roadphone has taken radio engineers and enabled them to have the training to write software solutions (Applications) for two-way radio systems. This ensures that the unique features and facilities of the radios systems are catered for. We have previously evaluated software solutions written by software houses before and have been very disappointed that they do not understand the needs of a two-way radio system or its clients. This led to our decision to use radio engineers as software writers.
As the company develops new software solutions, these are beta tested and implemented first by NRB for their hire clients.
We have developed control room solutions that utilise a PC to get the best out of a radio system. These solutions include call logging, voice recording and call analysis features enabling emergency or event control rooms to manage many different user groups across their communications systems.
Admatics Cordless Headset
Control rooms are noisy environments, which is why we've created a cordless headset for desktop-mobile radios.
The receiver and charging unit connects to the back of a Motorola MotoTRBO desktop mobile radio, and allows the user to roam freely around the room whilst listening to transmission via their single-sided headset.
Available exclusively from NRB, the cordless headset has proven extremely popular with event control organisers, and is used at some of the UK's largest and most prestigious events.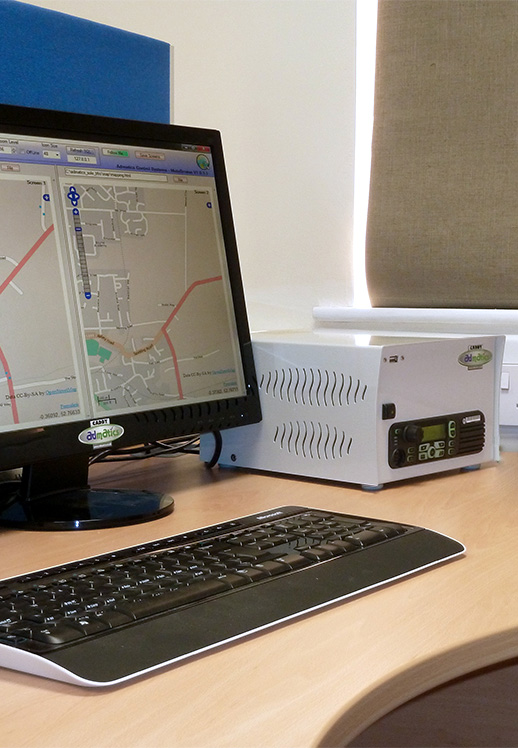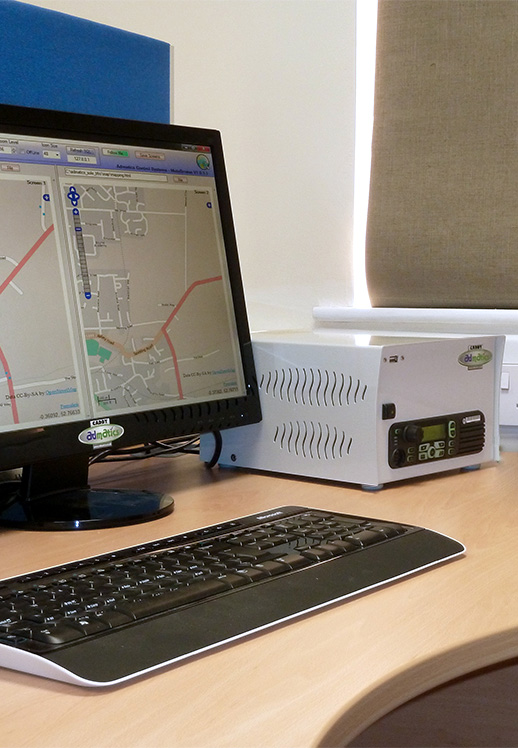 Features of Admatics
Developed in-house by our engineers, Admatics products are designed to make your control room more efficient.
Supported by conventional digital, analogue, IP Site Connect, Capacity Plus and Linked Capacity Plus systems, the software comes pre-loaded onto a Windows 7 PC. A Motorola desktop mobile radio is then packaged in a metal housing unit, with easy-to-access mains connection, radio antenna and PC peripheral ports on the back.
Features include
Voice Recording
Call Logging
Text Messaging
Lone Worker
Emergency functions
Admin/User logins
GPS Tracking
Call reporting
Directory with camera interface
Private, Group, Emergency and All Call functionality
Auto-Stun
Automatic Registration Service
Transmit Interrupt
Remote De-Key
The latest addition in features for our Admatics control room solutions is GPS. This latest feature uses a MS SQL database to store tracking information sent back as periodic polls (typically every 30 seconds) by GPS enabled portable radios. The portables transmit data back over a data channel thus data is collected in real time and is not subject to the voice channel availability (an issue highlighted by our trial at the French Open Tennis Tournament this year, the solution is now implemented in our latest version of the software).
The control room software shows the position of the radios on a mapping screen using the latest maps available via an OpenStreetMaps licence. This mapping screen is a browser window allowing it to be undocked from the software and shown on a separate screen or browsed over a network connection from another PC.
The Admatics voice recording solutions are now in their second generation and have been written not just as voice recorders but also as solutions that allow incidents to be archived and maintained for both training, review and litigation purposes.
Require Advice, or Want To Book A Demo?
For more information speak to one of our product specialists today...
Reach us on...
Hire: 01778 393938     Sales: 01778 421250
Alternativley by completing the form below, one of our product specialists will contact you as soon as possible