Introducing MOTOTRBO™ R7
MOTOTRBO R7 by Motorola Solutions is their latest
digital portable two-way radio. Offering loud, clear,
and customisable audio in a rugged, dependable,
and connected device.
The R7 Series includes:
❯ R7 Full Keypad
❯ R7 Non-Keypad
❯ R7a Non-Keypad
Discover MOTOTRBO™ R7 in the video below…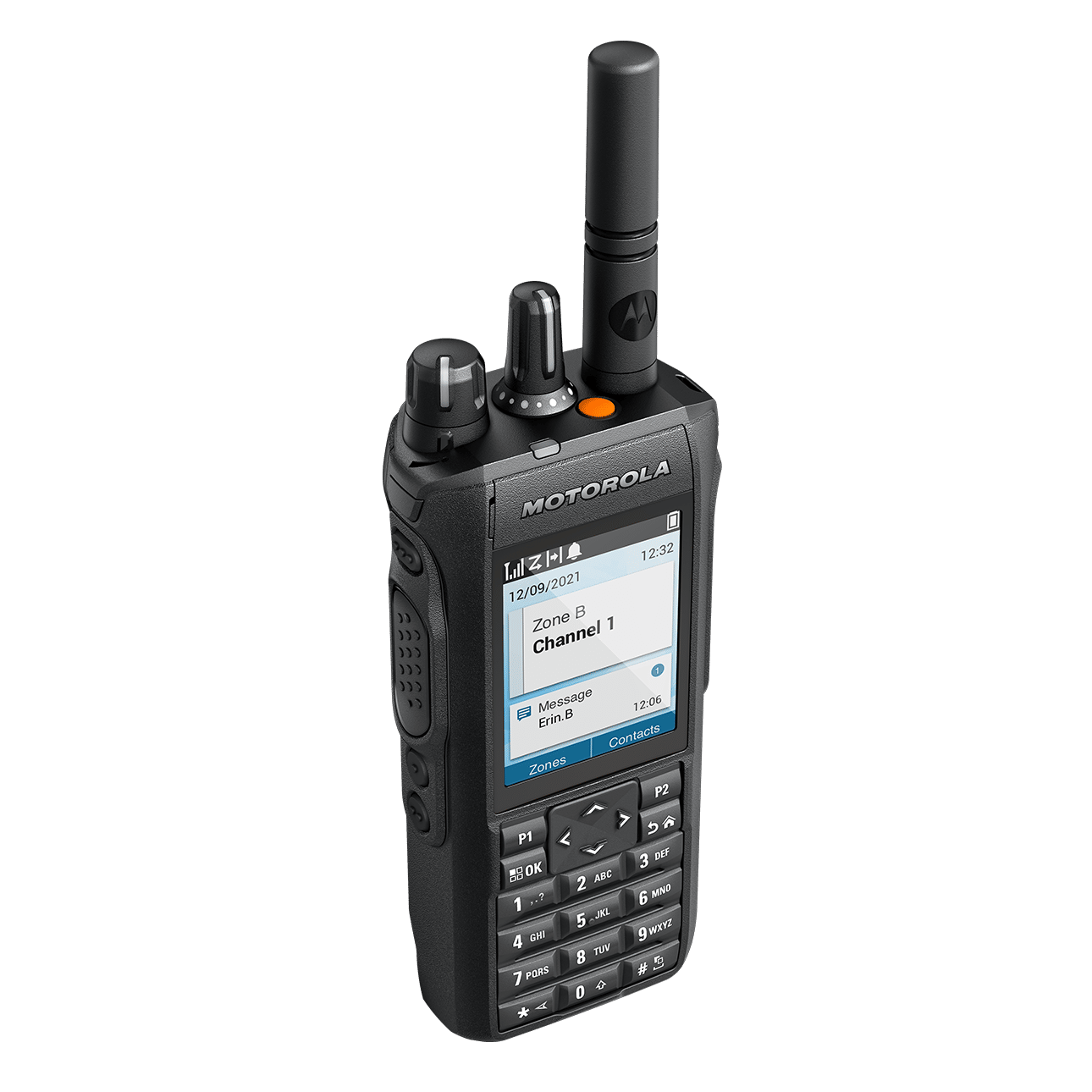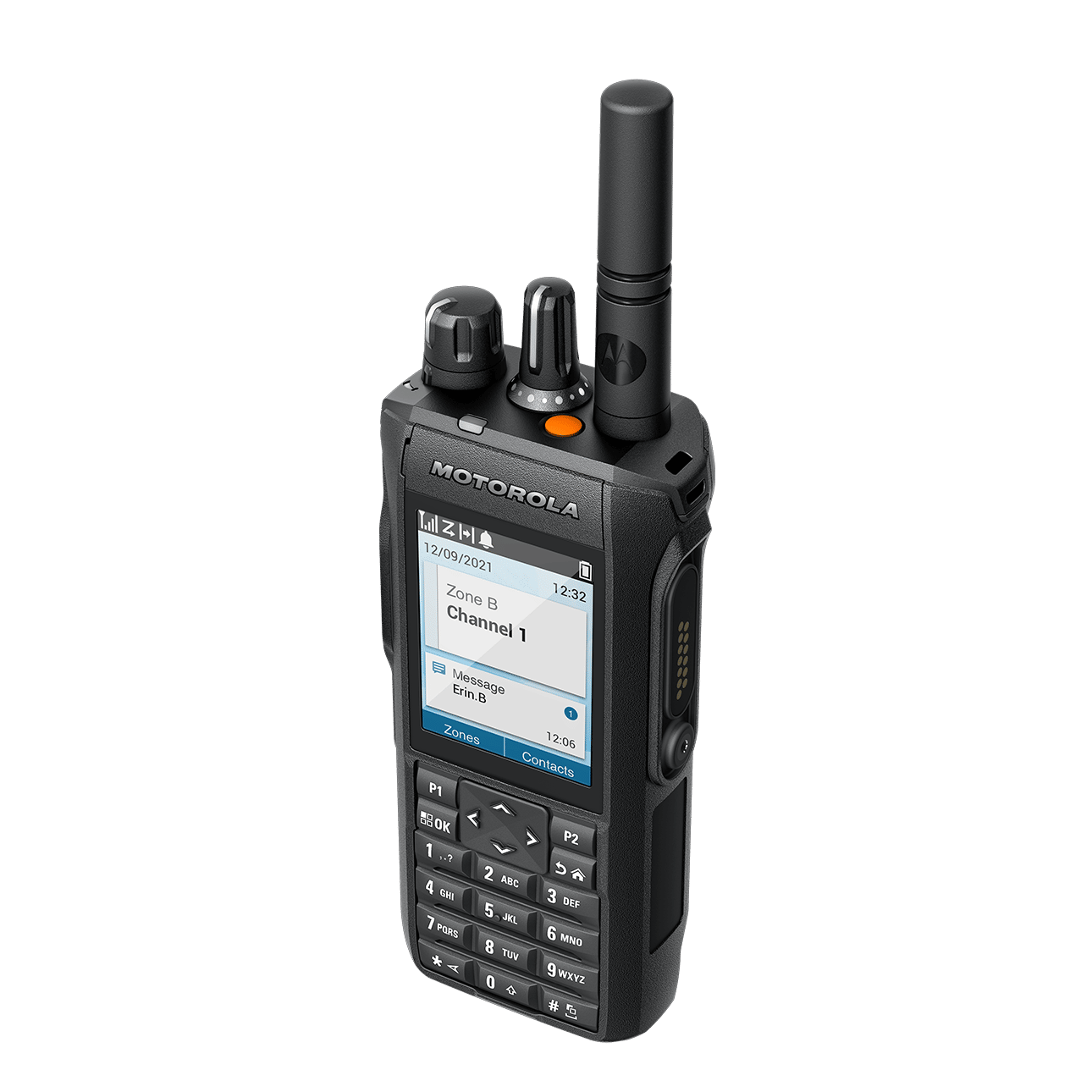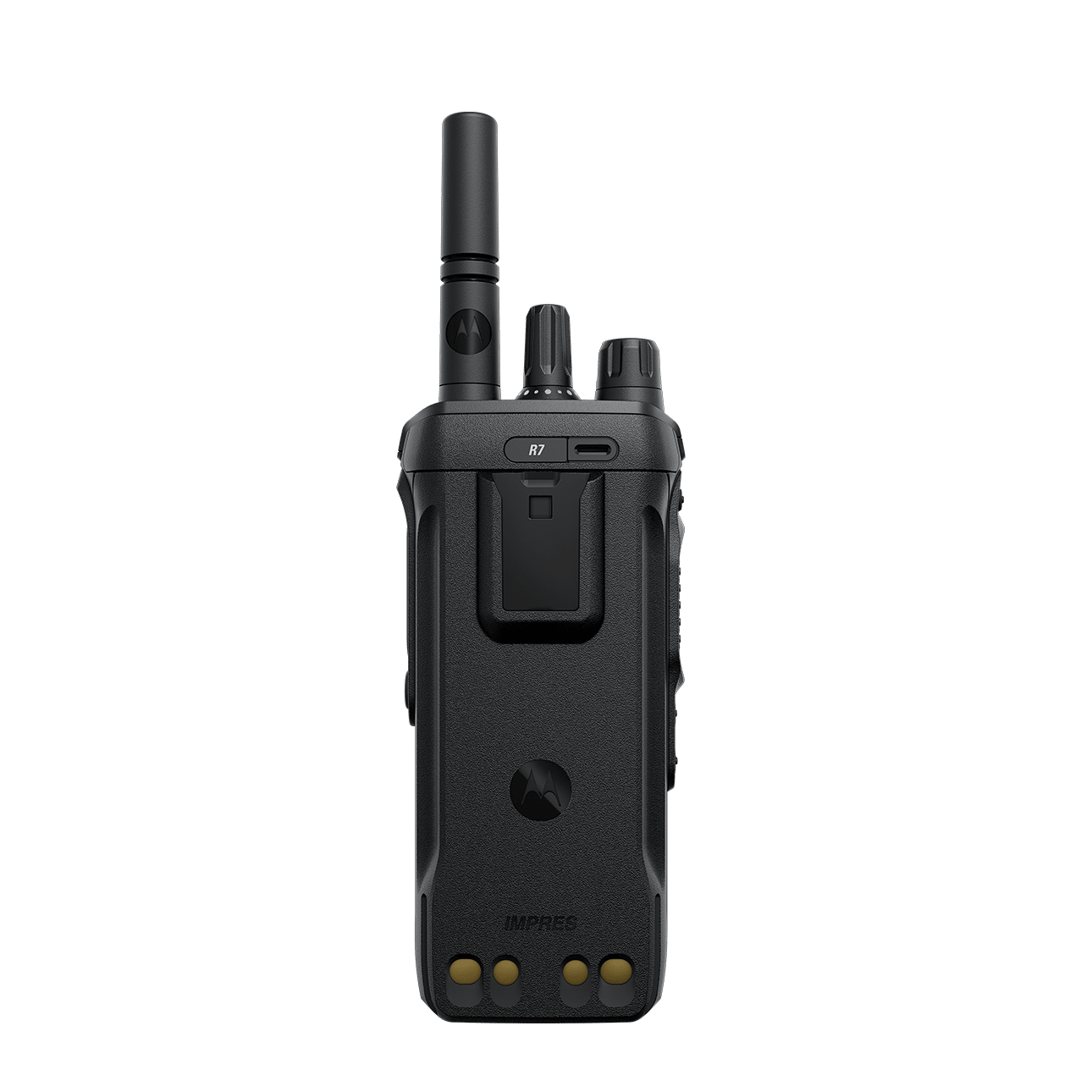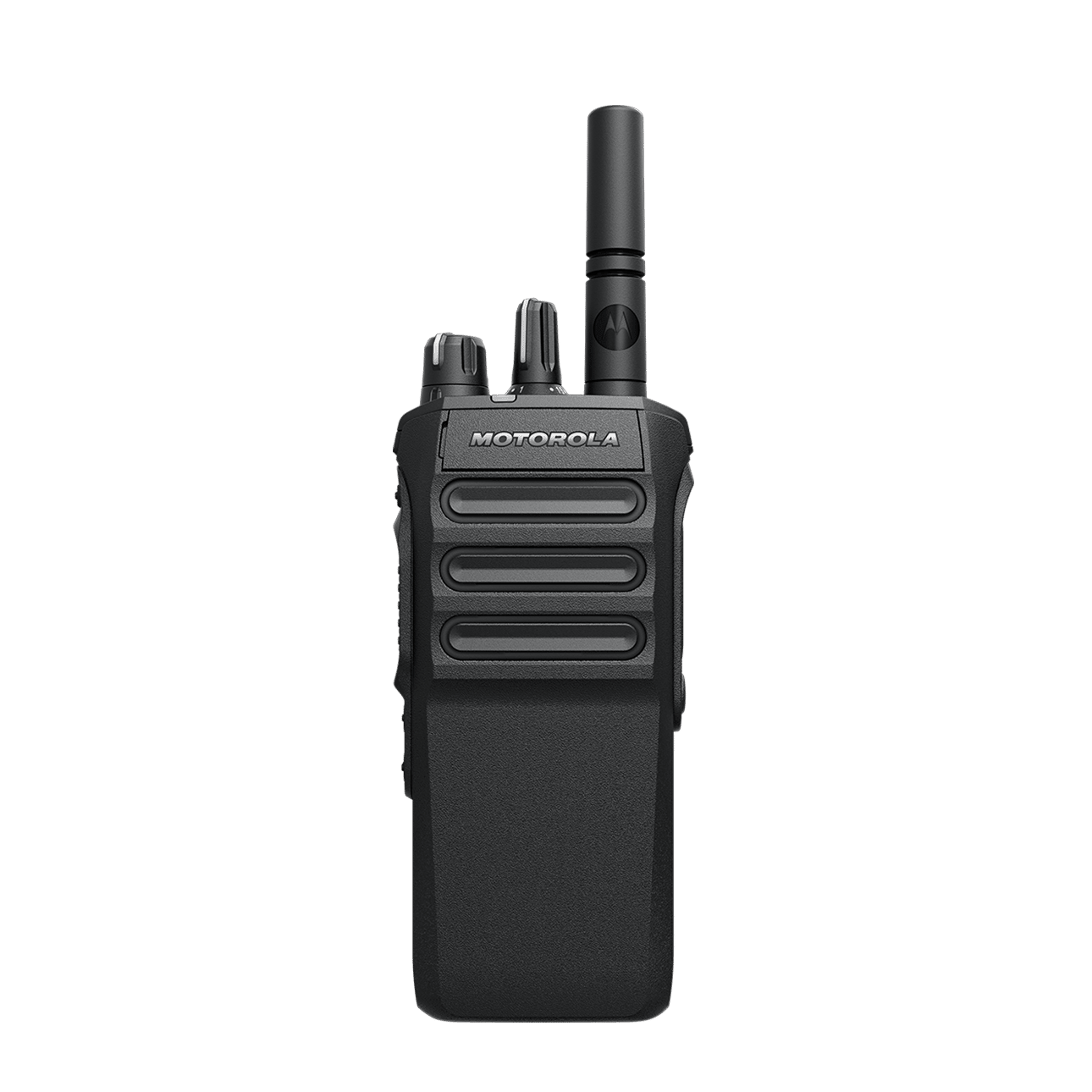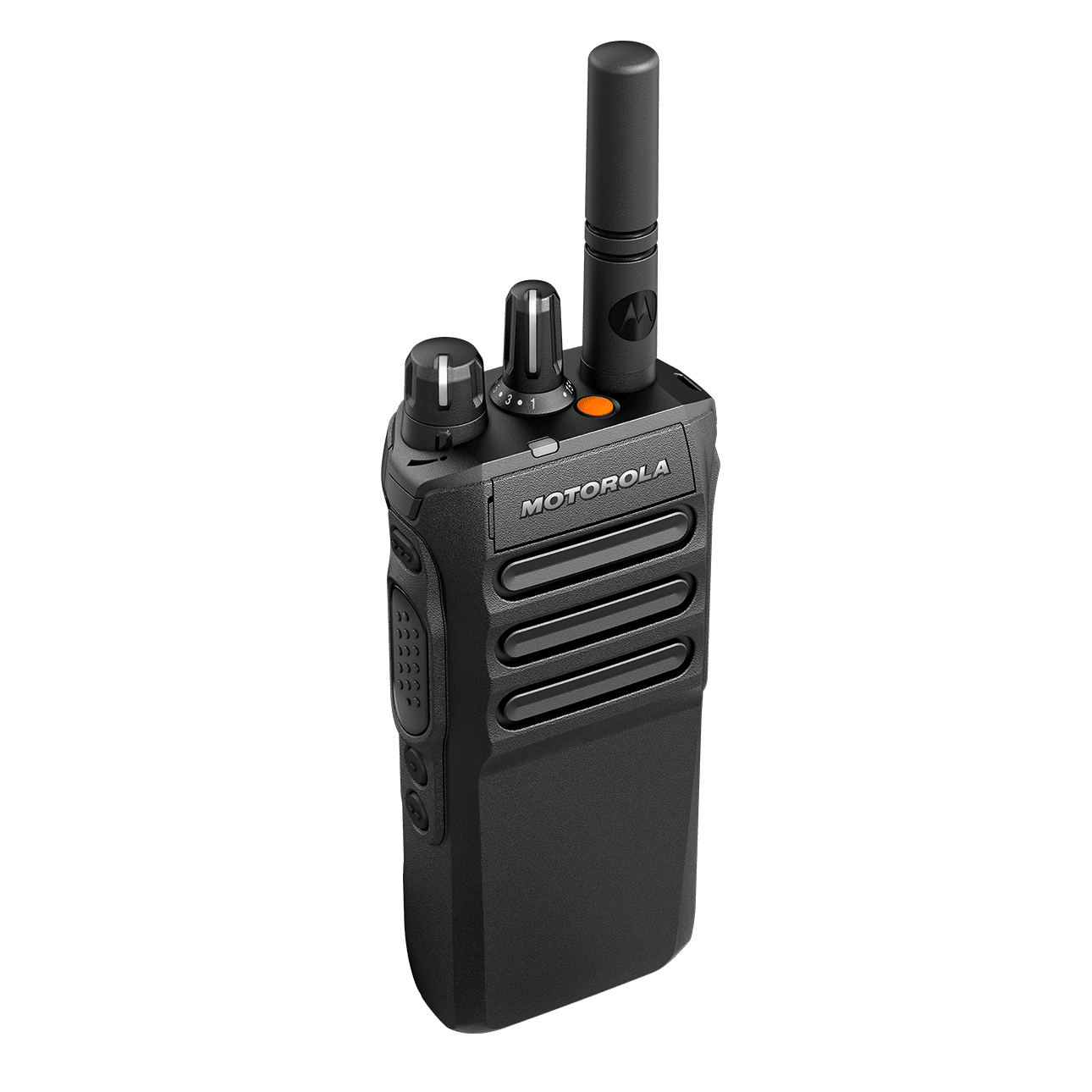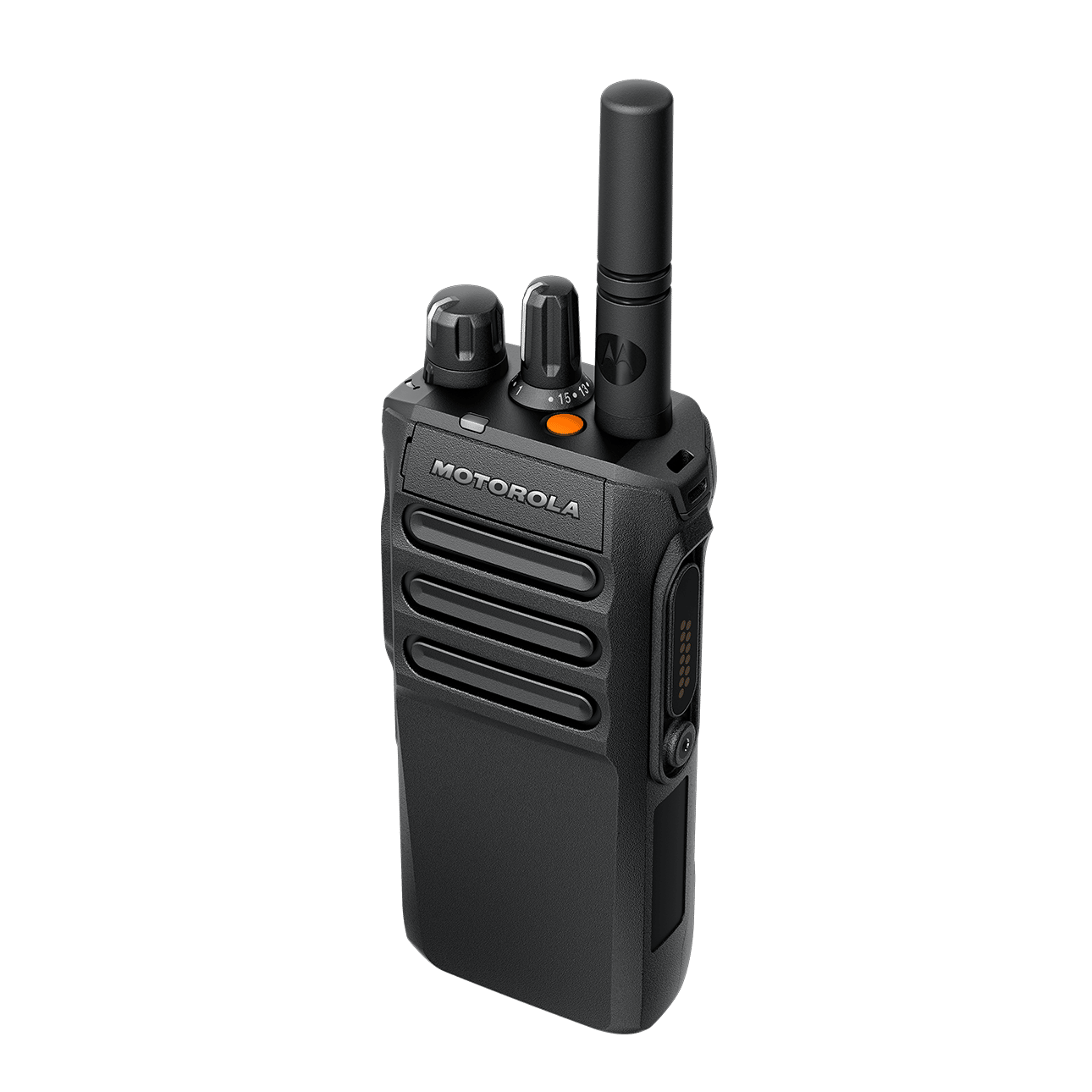 MOTOTRBO™ R7 – Overview:
Always Be Heard.
MOTOTRBO R7 is the latest digital handportable radio from Motorola Solutions. Its advanced audio processing ensures that your voice is always understood, while the rugged construction is built for the toughest environments. Additionally, R7 comes
equipped with the latest Wi-Fi and Bluetooth® connectivity options meaning your devices are ready for tomorrow as your systems grow.
Our highlights of this product include:
Rugged to MIL-STD 810


Large 2.4 in. QVGA 320 x 240 px. display

Adaptive Dual Microphone Noise Suppression

Automatic Acoustic Feedback Suppression

Modern, intuitive user experience

Sleek and compact form factor

IP68 water immersion certified

Programmable loudness up to 107 phones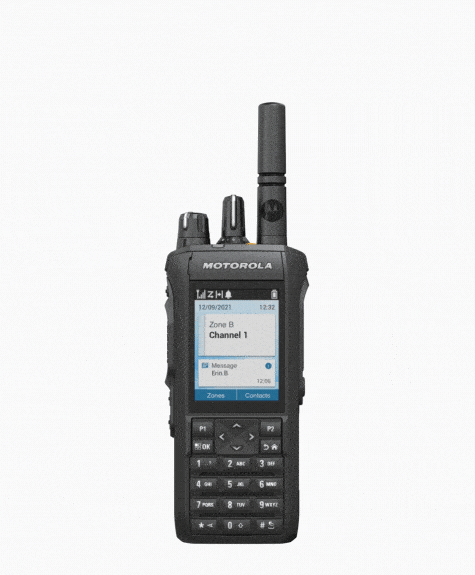 MOTOTRBO

™

R7 – Capabilities:
Loud and clear:
By providing exceptional noise cancelling, loudness, and voice clarity, the MOTOTRBO R7 excels where audio communications can be challenging. R7 ensures your team can hear and be heard anywhere you operate, even in the noisiest environments.

Designed for business:
Built rugged, developed for maximum uptime, and ready to connect your team, the R7 two-way radio is designed to perfectly meet the needs of your business. The R7 is tested to stringent military standards and is rated to IP66 and IP68 for maximum robustness, while built-in security features and over-the-air programming minimise device downtime.
Ready for tomorrow:
Developed and produced for the communication needs of your team, the R7 features modern Wi-Fi and Bluetooth connectivity to keep your team connected now and in the future. Paired with a large colour screen and with connectivity to other systems enabled by MOTOTRBO systems, your team can be ready for today and connected when your systems change tomorrow.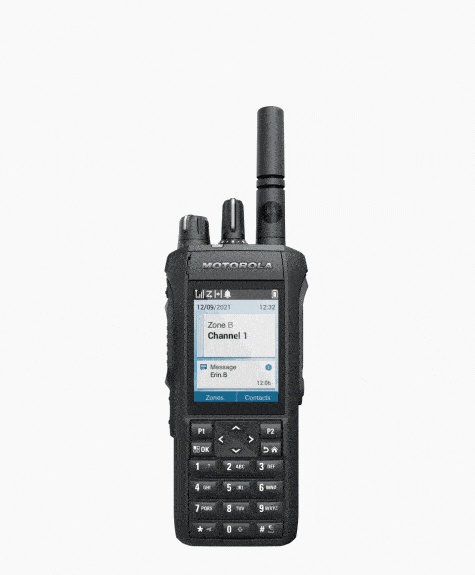 Why
MOTOTRBO™ R7?
Developed and produced for the communication needs of your team, the R7 features modern Wi-Fi and Bluetooth® connectivity to keep your team connected now, and in the future.
✓ Outlasts your expectations: Built to last. Tested to meet military standards, and built to last whatever is thrown its way.
✓ Big features, compact design: 2.4 in. QVGA 320 x 240 px. display, front and rear microphones for advanced noise cancelling, front speaker behind the keypad and slim long-lasting battery.
✓ Critical info at first sight:  Fewer clicks, less scrolling. With a large display, intuitive user experience, and efficient navigation, your team gets more info at first glance.
✓ Connect and collaborate: Scalable connectivity. Receive critical alerts from video security systems, gas sensors and more. Keep your team connected and streamline critical communications.
MOTImprove emergency response time with
MOTOTRBO™ R7:
Emergency incidents involving hazardous environments will require specialist solutions for their service teams who need to communicate instantly and effectively. Two-way radios are ideal for Fire & Rescue Solution (FRS), but careful consideration is required because the use of standard radios and accessories in a hazardous environment may cause a catastrophic explosion. This is where R7 steps in… 
The next-gen R7 is the perfect tool to facilitate critical communications without any difficulties. Hear and be heard, connect when it counts, and get information quickly. Prepare and equip your FRS's with the best-in-class radio system. The R7 radio is a highly responsive device, offering enhanced audio in a real rugged weatherproof design, that will enhance your response team's operations. Group calling services provided by two-way radios means that firefighters can easily receive and respond to calls from dispatchers, the fireground commander, and each other, to ensure a better coordinated rescue. Why not consider integrating your R7 into a Motorola Solutions Safety Reimagined ecosystem of CCTV, intelligent analytics and body-worn cameras to deliver excellent return on investment.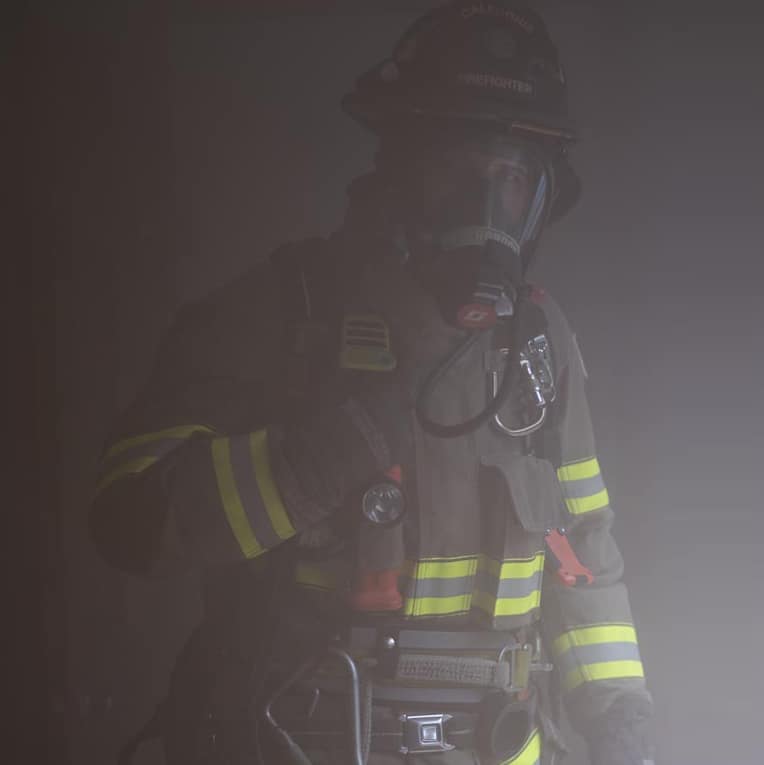 Frequently bought together: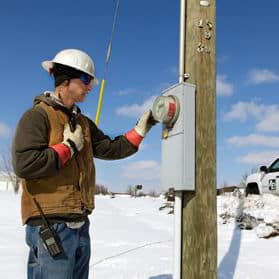 MOTOTRBO Systems
Connect your entire operation with MOTOTRBO
digital portable radios.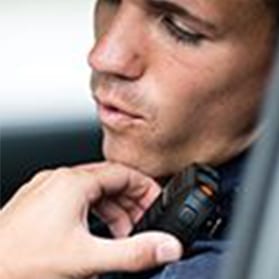 RM780 Wired Remote Speaker Microphone
Hear and be heard like
never before.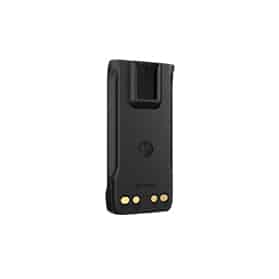 MOTOTRBO Li-Ion 2850 mAH Battery
Slim, high capacity battery, powered
by new lithium cells.
The complete DMR Solution:

Portables
Connect your entire operation with MOTOTRBO
digital portable radios.

MOBILES
Keep your teams connected with MOTOTRBO
digital mobile radios.

SYSTEMS
MOTOTRBO systems are designed to scale with your organization, so you can grow as large as you like.

SERVICES
Select the right level of services to maintain continuous uptime and availability of your MOTOTRBO systems.

Require Advice, or Want To Book A Demo?
For more information speak to one of our product specialists today...
Reach us on...
Hire: 01778 393938     Sales: 01778 421250
Alternativley by completing the form below, one of our product specialists will contact you as soon as possible